Ducati Owners Club Of Canada
This is a
blog post
. To read the original post, please
click here »
It's Up To You.
Right off the bat I would like to thank the 127 people that took the time to give us their feedback. After reading many of the comments it seems clear to me that one of the things the club must do a better job at is explaining why we do what we do. Some simple things like the reason we have track marshals, how much control we really have over track access, why you seemingly sign your life away at registration or why we even break for lunch. My hope is this survey can prove a catalyst to discuss subjects such as these.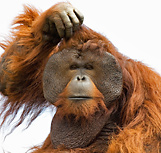 When you view the results below you will see that 44 people displayed a willingness to put a deposit down on a trackday at Tremblant. That is a number higher than I was expecting and shows the appetite out there for going back to the hills of Quebec. It was very surprising actually that there is more interest in a return to Tremblant than a return to Grattan! Sadly I have to offer my apologies it won't happen this year. Calabogie offered us dates and we had to make a quick call. All I can say now is if you want to help make Tremblant to happen next year grab your soap box and let people know how you feel.
Taking off my executive member hat and getting on my own soapbox I will say that I feel very strongly the club should endevour to make Tremblant a reality. I fear that if your voices aren't long and loud it just won't currently happen; my opinion is just one of many. I have long felt that one of the prime motives of the DOCC should be to offer the membership an easy path to opportunities that are special, that are different. There is a reason we call our events track festivals and that should be that our goal, as it always has been, to be more than just a track day provider. But enough of my opinions, and they are just that my opinions, please spend some time to look at the charts and read the comments. If you feel strongly now is your time to step forward.
One Mans Opinion....WHAT'S YOURS?
On another note we have received a far reaching letter from a long standing club member regarding one persons view of how to grow our club and take it forward. You really should go and read his opinions, they are well thought out and it is certainly a case of thinking outside the box. If you are expecting a recommendation to rearrange the furniture you couldn't be more wrong. Go and read it, comment on it, disagree with it, throw your arms up and cheer or cover your face in despair. Whatever your reaction it will certainly get you thinking.
Click here to read it.
Paul Barlow
DOCC # 11
The Survey Results
Question 3:
Possibility of attending one of our rallies based on the following options.

Question 4:
With regard to a possible event at Mont Tremblant would you show your commitment with a deposit?

Question 5:
Tracks I would like the club to visit. Drag them into your preferred order.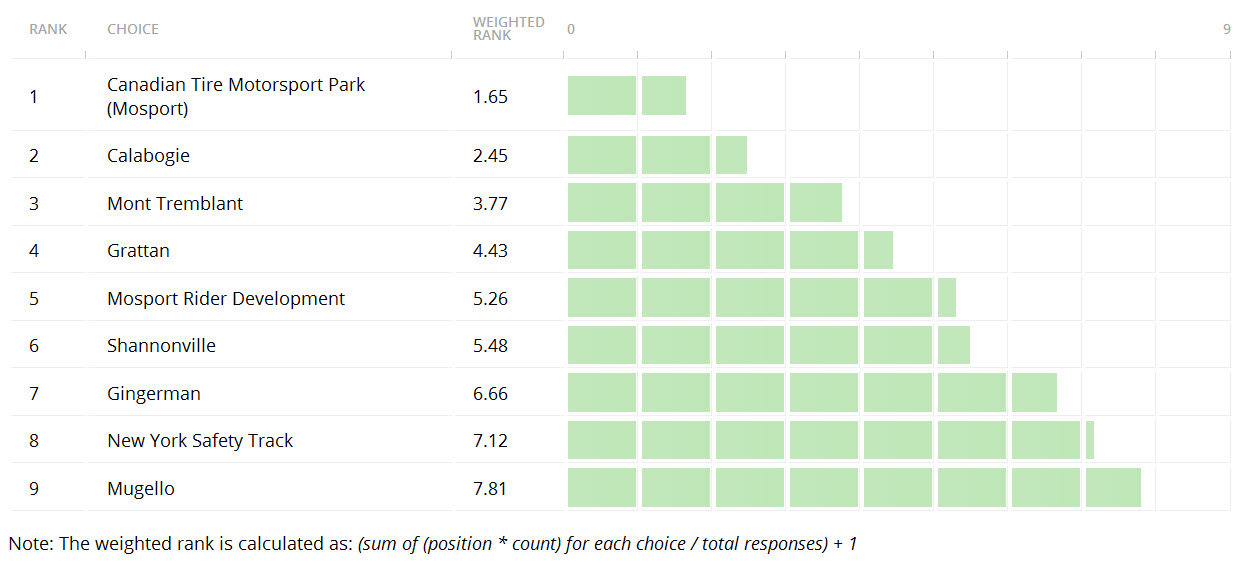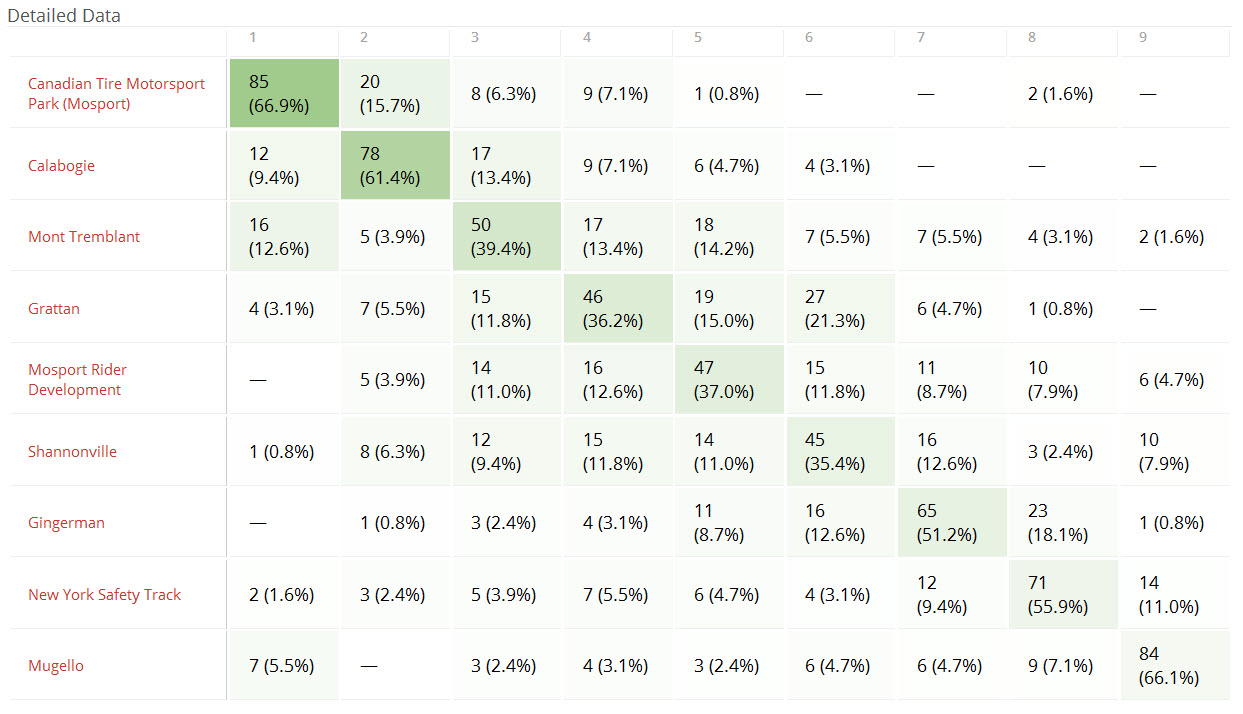 Question 6:
If you have never ridden a track rally let us know what might be holding you back?

When trying to invite my friends their concerns are - prep and lack of training and danger
Would like to get some track time I,m only 40 mins from Calabogie, just need some gear to check it out before I invest in a set of racing leathers...I usually end up coming up on track days and walk the pits and watch and listen... One of these days as it's getting harder to avoid the LAW on public roads..
Up till now didn't have a european track bike. Now buying a KTM RC390 for track use.
I rode your Mosport event on my 2012 BMW S1000RR. My brother in law didn't come because he thought it too much work to replace the coolant with water in his K1300.
Ducati track days are the best,great bunch of people.Have a 1988 yamaha rz350 track only
Cant afford to wipe out get hurt and unable to work.
I have a MBP engine in the Duke now that needs to be DRIVEN and have always wanted to drive at Mosport.
First timer this year and was fantastic would of went to both Calabogie dates but they were to close together so only attended one
I have never been able to make the available dates. I travel a lot with my job and I have done other track days - riding schools due to date availiability.
Expenses of a bike isnt suitable right now.
I have an 899 Panigale. I don't have a trailer. I don't have track skins for it. I would like to get a dedicated track bike and trailer. I'm also pretty ignorant about the whole process of trailing a bike. I have done it but I don't feel comfortable with it. I do want to change that. I love track days but have only done 13 over 7 years.
Although time is an issue for me in regards to preparing the bike and all the gear I have a young daughter and a wife not quite into motorcycling as much as I am. However, I am slowly trying to work them into coming to a track day. Another issue is with the timing of the track days with many of our work commitments in which we travel out of Provence. For that reason alone putting money down usually done last minute usually within three weeks.
A weekend rally is a bit expensive to attend and also difficult to commit the time
I race a 1939 Velocette in VRRA events, well the ones I can get to. There's only so much money to do the things we want to do. Retired now, so pension only goes so far! Would love to find a 1990's 900SS that I could ride on the street and the occasional Track Day.
After attending your mosport Monday for many years consecutively on my Japanese bike. When I asked your club to hold a spot for me, you told me that you were not willing to give me a heads up about when you would open it to non European bikes and that I should keep checking your website weekly. So I inferred that you did not value having a rider that had a proven record of riding safely and respecting your rules, so I decided to not bother checking your website anymore.
Question 7:
Lastly let us know what you want, wish for or even despair about? If you don't like how something is handled now is the time to let us know. We really do want to hear.
Happy with the track days as they are
Would like to ride in a safe environment,so I can bring me and my bike home in one piece,don't want to be on a track with a bunch of hotdogs.
As a new track-day rider, I really appreciated the advice and direction from Brad Monk in helping with line, etiquette and body-positioning cues. I'm sure all of the rider-coaches are of a high caliber. It would be nice to have the option of track instruction for the intermediate rider to help hone techniques and gain additional comfort and control while continuously raising the level of skill. Not sure if people would pay for this kind of thing, but i think it would represent a great value to offer. Just a thought.
i think the docc does a great job at the rallies, would not change anything
Honestly. I really enjoy the DOCC track days. Keep up the good work. See you when the track is warm.
Being able to ride mosport (big track only), thanks for all your hard work:D
Just to get together with ducati enthusiasts and hang out for the day, check out there bikes, go for a cruise or tack it on the track.
DOCC needs to address their inability to run smoothly during light rain or wet track conditions. It seems there is way too much track time missed due to club's inability to operate in damp conditions. note I said damp. No one is expected to run during rain or dangerous weather conditions, but it seems DOCC doesn't want to operate unless it's completely dry. Why is it so hard to run in light rain, or on wet track, perhaps someone who makes decisions should attend STT track day and learn from them, there is no shame in admitting you can't run an event in wet conditions, STT does it better than anyone, in fact they don't miss a beat no matter what the conditions. People pay great amount of money for track time, and they should get it, we are missing way too much riding time to conditions that are good enough to ride. Also, Grand Bend is a great event, some may not like it but there is those who do like it, STT has events in Grattan during September, people may consider that. Also some marshals need to remember why they are there, not so that they can have a free track day, often they are out there riding as if they were paying track day participants.
Although I haven't been able to attend the last couple of seasons, I plan on attending 2 events this summer.,Due to the increase in costs over the last couple of years and more dates, I believe that there are actually too many dates for many members of the club to attend. In my opinion only, I believe that many people can only afford the time and money to attend a couple of weekends.,By offering 3 major events, Mosport and 2 Calabogie weekends the club has spread itself a little thin. With many people, between family commitments, and other motorcycle events(VRRA and other rallies), there is a limit to available weekends and funding. If there were only 2 major events(Mosport plus Calabogie or Tremblant)......and possibly a season closing event like Grand Bend, ridership would likely increase per event.,All the best for the new year, and I will see you at the track next summer.
Look forward to learning more skills, including track riding.
I'm happy with the way registration/tech is organized, its a fantastic idea to get it out of the way the night before whenever possible. It would be nice if people took the morning riders meeting a bit more to heart, but that's human nature I suppose.
I think the way you run the events are wonderful. Very caring and considerate of everyone.
I have concerns about too many green slick tired riders in yellow. The sessions are too long too. They were better at 15 min. I would like to see them go back to 15 min. and be able to drop the price too. I would attend more if the cost was not so big. Maybe I should be in be in blue but the no pass rule needs to change for that to happen. Since yellow is the largest rider group why not look at adding back two yellow groups. I thought it worked well in the past. Unless you are a full time racer I think 15 minute sessions are the best compromise. I think we need to do random class wrist checks to keep folks honest. After getting run off big time in the shute its not worth the risk.
I really enjoyed the training provided at the Mosport weekend last year.
Trackdays are way too expensive for me.I can't see myself doing them anymore.
I would like to ride Tremblant and I hear you guys go there. I do not have a Ducati but I like them!
Good job by all
I really didn't mind Grand Bend and didn't smell the onions. My little RS grooved well on that track and for me brings variety to the mix. I will probably still do a track day or 2 there with another organizer. That being said I have a budget so may only do 1 or 2 with the DOCC now instead of my usual 3.
Weekends work best (because of work), but if I know far enough in advance, I can probably work something out.
Could we try lunch from 1:00 till 2:00 to keep the afternoon short.
DOCC trackdays are always well organized and fun to attend. If i could had the time I would attend all events. 6-8 days a year seems to be my max. But, if more dates/tracks were added I would definately work at making more,especially if they were weekdays. Partial downpayments on days wouldn't be a problem and may actually help get more days in, financially. The trackday combos are a great idea and help save $$. Keep up the great work!  PS. Mugello would be great but...
Sad that grand bend is not on the radar but I understand. Was nice to have a weekend close to home.  Rick and I enjoy the track days and would go to more depending on the dates. We know you do your best to accommodate everyone. Thanks for all your hard work and efforts. It's greatly appreciated and enjoyed.
Does Gingerman have any sound level issues or Camping restrictions. Who supplies the plane for Mugello
I like the DOCC track days because of the social/family atmosphere.But I find the atmosphere at Mosport over the last few years consists of 3 groups: the old regulars, the newer regulars and the group that is there because it is Mosport and don't really care about the DOCC club. There needs to more interaction among the membership. I don't notice this separation at the other track days as much.I would have no problem contributing to a dinner or breakfast fund and have it catered to include everyone attending the track day(s).Also, each event could have something for DOCC members who are not participating on the track itself, but enjoy the benefits of being with other DOCC members. Such as a place to "hang out", park your bike and socialize etc.Have a DOCC event tent set up at track days with chairs as a common area for ALL members (whether they are involved with track days or just coming out) to get together as they please. Offer free bottled water. Maybe simple snacks (butter tarts!). The attending membership or especially the supportive families could provide snacks. This may foster more of a cohesive DOCC membership.  thank you.
I have to pick my holidays for the following year in sept/oct. It would help if I knew when the club was looking at track times as soon as possible. I know that the club may not know the times available. If I knew even the times that were considered I could still take the time off and hope for the best.
I would be interested in the NewYork track however additional out of country insurance is an additional cost that may be prohibitive.
i like it the way it is. i just want one or two more events. like philip island or brands hatch
Think you do things well ,I just need to get it in gear and get out there. Thanks again....
A few random thoughts1) Shorten the lunch break to 1/2 hour or 20 minutes. A 20 minute break will mean every rider is off of the track for 1 hour which is plenty of time. (One extra session per day is over a 10% increase in track time)2) When sessions are not full, allow appropriately experienced riders from lower groups fill it up for the last 10 minutes (ie: if Red only has 10 riders on the track, allow Yellow riders to join. Likewise, let Green join Yellow. (Don't let Red join anybody, they're just crazy). This might help get some of the faster yellow riders to make the permanent jump to Red.3) Revisit the "2-up and Vintage" session. I know it's tradition but that class is never full and has very few vintage bikes. For the few that ride 2-up, have them join the first Red session after lunch. The 5 or 6 vintage bikes should be allowed to join any group they feel comfortable in at any time.4) Start the next group of riders when the prior group is 1/2 or 2/3 done their last lap. ie: Don't wait for all of the riders to be off of the track before the first person gets on. Anybody blowing by the checkered flag should be verbally spanked.5) "Force" or strongly suggest that faster riders move out of Blue into yellow and faster riders in yellow move up to red. Similarly, bump slower riders down. (I'm think you may already be doing this)6) The biggest issue (and it's not really that big) that I have is the use of marshals. I don't really understand what they are there for in the faster groups. I can see that they would be of value to the Newbies and help them pick the correct line etc, but in the Intermediate and Racer class, what do they do? (Oddly enough, the only person to ever stuff me in a corner dangerously was a marshal!) Here are my suggestions for marshals.
1) Rookie group - as many as possible to start the day reducing in numbers throughout the day
2) Intermediate group - a few marshals in the first couple of sessions. None needed after lunch
3) Racers - none needed.How about 1 marshal is on standby at pit lane so that if there is a need, the corner workers can track the "offender" and send out the marshal to intercept them (if a black flag is not warranted).  I also think a schedule for the marshals would help so that 25 riders aren't waiting to go on the track but can't because there are no marshals.
It would be nice to ride at mt tremblant again , providing the cost is able to stay inline or close to a mosport event. Sad to see grand Bend eliminated but i understand the reason. Its a good track for smaller displacement bikes.It would be nice to see more people volunteer at track events to lessen the burden on the few individuals that constantly miss out on riding in order to run the event.Track days are well run, safe, and good family atmosphere.Job well done by present executive committee.
Free shipping from BC?    Might reposition a bike to Ontario just for this kind of opportunity,
I think the club does a great job with all the events. I just hope we can get the most desireable dates.On a purely selfish level that would mean mosport on U S memorial day weekend !!!
We all love Mosport, nuff said. Calabogie is also a must, once or even twice . I would try the development track over Grand Bend, we've "been there done that". How many members are willing to go to the States...? I'm not. Tremblant is a long drive for many and I did not get a warm fuzzy feeling the times we did go. Shannonville, maybe but the facilites are nonexistent last time I was there.
Enough lead time so vacation time can be booked. Many companies require vacation to be booked at the beginning of the year. When track days change, it does not mean that vacation days can be changed. Set the schedule and stick with it.
No complaints - like the way the club is organizing this events. Tremblant would be a great addition.
No complaints!
I think you generally do a great job of organizing and running these events! Thanks, I had a great time at Mosport both days!!We need to tell folks in the riders meeting if they are getting off the track mid session, they need to stay on the pit out side of the track prior to exiting. Sunday last session @ Mosport in the fastest group (green?), some folks were going slow with their arms up on the back straight getting ready to exit the track, but they were on the left side of the track. This caused them to cut across riders who were on the right side at speed into turn 8. The closing speeds can be pretty high, I would rather they stay to the right and riders at speed go past on the left.Can we do an event at Watkins Glen? I would like to ride there some day.
Riding weather all year round.
My only fear is that we get pushed out of Mosport main track into the RDT or DDT version. I've heard some silly rumours that the long term plan is to get 2 wheels off that lovely track !!
Would be great to have a band on the saturday night at mosport
The events i have attended seem to be well done. Getting crashed bikes off and things rolling again is most important.
Ummm, no rain. Other then the weather, you dudes do a great job and Calabogie/Mosport is the highlight of my summer.If the marshals are up to it how about 1 session for feedback/schooling only? Could we spend 5 minutes after a morning session getting feedback/tips from a marshal on anything they see on your lines and/or form during the previous 20 minute session? There might not be time or enough marshals for this.Thanks, dreaming of next summer.
Weekdays are usually easier for me but I may not be able to do back to back days. Closer to GTA also better. Calabogie would have to be overnight so might as well do back to back days.
Any time I can get on the track with the DOCC is great. Keep up the good work.
thought i would participate for another perspective. member but outside of the area.
Track bike gone. Waiting for new one? Maybe Santa will be kind?
If possible, I would wish for two rallies at Mosport big track, two at Calabogie and round out the season with one day at the Mosport development track; in other words, five days of track with the club. While I do like the Tremblant track but eight hours of driving is simply way too much especially when the event gets rained out like we experienced a number of years ago. Thanks for the survey.P.S. -- Shannonville is a good alternative for me if only they would improve the track surface. But if Mosport becomes impossible to secure dates, I would not turn down Shannonville.
Love your events....but I've been racing 4 wheels more and have less time for the Duc...
The DOCC run an amazing event each and every time. I have attended for many years and would like to congratulate all the volunteers for the excellent jobs they do.
My only desire is for the DOCC to be more understanding of and encouraging to it's Quebec members. Having a track day in Mont Tremblant is an important step in that direction.
The club does a fantastic job at all the events I attended. Only thing I will wish would be more mosport dates since it is closer to me then Calabogie, plus like the supper included at mosport and the guest speaker nick
I was fortunate to attend the Mont Tremblant track in 2007. Loved it. As a new sport bike rider, I would like to see some racing classes given to the membership by some of the more experienced senior members prior to the track days.
I'd like to preface this by saying that I appreciate the work that everyone responsible for making these events possible puts into them. We have relaxed the way we run the events lately but in my opinion can do a lot more to make them more relaxed and fun because motorcycle enthusiasts are typically individuals who thrive in that environment. We will become very quickly more marketable in attracting new members...
I admit I'm not a Facebook geek but I will say I do not like our website. It's too hard to post to post anything! Every time you do try to post your password has expired. PITA. The club should could look at the VRRA sight to see what our website traffic used to look like.I don't care really but find it funny Grand Bend was pulled from the roster so fast. Profitability perhaps, but I think lack of exec interest could be part of the reason. Didn't see many either year. My 2 cents.
I would like to be able to put a deposit down for a local track rally such as MT Tremblant or Calabogie and if, due to my work commitments, I am forced to cancel - I can then transfer that deposit to another date or venue.
Track days DOCC events have always been great. Border crossings have become a real problem and have kept me away for a couple years now. I was shaken down pretty well two years ago by US re-entry and they have only gotten worse.
I personnally don't want to ride on a wet track. But, some younger or experimented riders consider that the DOCC organizers wait too long after a rain shower before autorizing the return on the track (in comparaison with other organizations). DOCC's exagerated prudence (in the eye of young, experimented or rain tire equipped riders) may deter them to participate in DOCC's events.
Make some room for the vintage bikes in Blue.
Mugello sounds good. Maybe not this year.LOL The track days at Mosport were great. My bike broke and you let me take out another non-Italian bike to finish the weekend, which was awesome. The May weekend seems early, with the fear of bad weather and when you pay so much you hope for decent weather. I do understand about being small fish on the schedule so it is understandable. Shannonville and the RDT are also good options, however, Shanny may be a bit slow and rough for the fine machinery even with Long Track. Good luck with making everyone happy. I asked about ordering shirts and seeing if there were some older ones available but no one ever got back to me. Still wondering about shirts from older events, what would be available. Would be nice to have a DOCC shirt to wear to events in the states.
It's easy to criticize and hard to volunteer. I really appreciate everyone who works to make these track events possible. Many thanks.
I am a big fan of DOCC track events, and will continue to participate in as many as I can. I have attended other track days, and I find DOCC events as well or better run. There is nothing of which I despair. Regarding the weekend/weekday issue, weekends are the only really viable option for me. I understand that the club will have to work with what is available, but for me the difficulty in getting time off, as well as the lost wages make weekday events unfeasible. I look forward to another great season in 2015.
A Southeast Michigan rider. Last rode with DOCC at your last Grattan day about 10 years ago. Now that they've repaved the track would like to see you back here at Grattan or the revised Gingerman. They also did some minor revisions to restrooms at Grattan - you can now sit down in a stall WITH your leathers on! What's to keep you from coming back?I have a track-prepped 1999 Supersport 750. Of course my dream is to make it to Mont Tremblant (be still my beating heart) or Calabogie - but I don't even look French.
Two up / vintage will it be brought back either in its own class, or combined with say the blue group??I don't really see a problem with GB, we are a non-profit, and maybe if it was a bit earlier like late August others may come. It was very cold there this year.Don't supply meals if it would help with the cost, or the club using that money that wouldn't have been payed out for the meal. I`m ok with the club not having meals at the rallies.Have the rally waiver forms in downloadable format for all registrants to complete at home or have it part of the process when signing up for the rallies. Have the fields on the forms filled out online , and have the administrator print them off and include in the rally package for riders initials and signature at track. (request from registration)that would speed up this process.Get Ducati Canada out to our rallies with well priced sag.Have the rallies open to all bike brands (always)Have awards and plaques again , that was fun.
I'd love to go to your track days. I've only ridden the Mosport DDT (old and new--the new once) and would like to ride the big track. A friend went to one of you days and said he was given great instruction by club members as to how to ride the big track, line, etc. I'd love to go to Calabogie but the distance, time & expense is daunting. Still I want to work that out. I'd love to get more instruction and the help of experienced rides. I'm serious about improving my skills. I have done FAST school Phase 1 and Phase to years ago. I love my bike, I love riding, and want to ride the track much more than I have and need to figure how I can do that.
from what I have observed at D.O.C.C events every one is to busy to attend to my needs and wants . every time I go to to a event it seems like every one is doing something , this or that . makes me feel like im not important as I need my socks washed and no one seems to be attentive to such needs .one time I went to an event ant their was some guy who was suposta be a big editor for a bike mag and all he did was name drop the whole time he talked !!! all I got out of my time listening to him was Scott Russell spends all of his time now a days standing in a corner !!! Just looking for his line , just looking for his line .???!??? other than that I wanted to try and by a D.O.C.C TEE shirt and the guy selling them was to busy assembling his bike . oh well it was a yellow bike after all and we all know how much less sophisticated though ducati owners are! yellow ,wtf is with that ? every one knows red bikes are faster !
I want more riding time!! Let's make 2 groups only.
My first track day at Calibogue, even after reading everything, I was surprised how unprepared I was. A detailed itinerary or agenda will be helpful for all us beginners.
You guys do a fantastic job. I will really miss grand bend though. For the price and ease of getting there. I think it's one of our groups favourite events.
I am very happy with how the events are run. Not.sure if the website could help get more people to.the track. More events at the track for people not.riding. Show events maybe. Best Monster or custom Duc?
I know change is coming but it would still appeal to me to do at least two and possibly 3 track events with the club this summer and I wish is the best of luck to pull it off Thanks
I despair that the idiot in the White House has become such a dictator that the economy may never recover enough to allow me to see my DOCC pals again!
Mugello? The mosport DOCC is usually a highlite of my year, I do need to fit DOCC stuff in around my VRRA racing schedule, hence my reluctance to chase some of the other venues. Didn't see Grand Bend on your list. I have a lot of time in at Gratton but am nervous about crossing the border with some of my bikes - ownerships are a little fuzzy.
I ride a 1098 full chip and Termi and keep it in pristeen condition. I have done Shannonville and Mosport (two tracks) on Japanese litre bikes but won't do so on the Duc. Some of this has to do with insurance. I would like to take the Ducati out on these tracks with "street" preparation at a more "tourist" pace for the experience. Don't know if this is possible but just a thought.
Only problem I have/ had. Changing date after payment. In my situation it's very difficult to change holidays after spring.
I think you're on the right track with this survey. Time and money are the two items that limit my involvement. Thank you
Having a small bore bike and loving short tracks Shannonville would be a good trade for Grand Bend as more people from the east may show and I haven't been there since 1986:)
I do 15 or more track days a year with a bike that is a dedicated track bike. At last day I did with DOCC (a couple of years a go) I was pissed that I had to remove fairing so they could test my coolant.  It's clearly a bike that is a dedicated track bike.  I've never been to Tremblant and would love to ride there!
Smooth running incident free!
I haven't ridden with DOCC in a while due to a less than stellar experience a couple years ago and ongoing issues I hear about from friends attending the days. Things may have change since, so discount appropriately if the issues have been solved. I don't ride a Euro/Italian, so I may not be the target audience for DOCC. Bring DOCC back to grand bend. Add ability to sign up for single days. Make the registration process for non-euro/Italian bikes more transparent and clear. i.e. Guaranteed advanced registration for euro's until a specific cut off date, none of the (old) friend of a friend under the table grey area registration. Post number of spots left in each group and the expected schedule for the days, i.e. if there are going to be groups of 2 up, vintage, etc. Basically, run it like a trackday, like everyone else does.The last time I went a couple years ago, gear inspection should be optional (for those that are new), not mandatory for experienced riders (cased a major backlog at registration). Tech was obsessed with dipping rads. My rad cap is not easy to access. Visually you can see it was water in the reservoir. The holier than god vs let's think for a minute attitude was uncool. The special 2 up/vintage groups created a large gap after lunch taking laps away from other riders that paid the same for track time.On the positive side, I've heard there have been changes made, but I find it hard to choose a DOCC day over any other day from a management/organization point of view.
Umbrella girls
  The list is long. But that would make it all better.
I think the rallies are very well run. Very organized
You should, in my opinion, worry less about what brand name a bike has on the fairing and more about who is riding the bike. From the events I attended on my lowly Japanese bike, I felt your club was about enjoying riding tracks without trying to beat the lap record but instead riding safely, with respect for yourself and fellow riders. There was no peer pressure to go faster, only to enjoy the ride. Also members exhibited a lot of pride in their rides. I can honestly say, I enjoyed this atmosphere. My two Japanese bikes are meticulously maintained and hqve upgraded components to make them much better than the rider that sits on top of them.
BRING NICK IENATSCH BACK
I over hear the radio's quite often and there is lots of nonsense happening on the track radio's that is best left to the track officials. Let the track officials do their job - they know their job - it will make your day better!  I like the idea from last year of mentoring new riders, when they ask for it.  Tremblant has noise restrictions and was a pain last time the club went, so I would probably not go if scheduled.
event coordinator is mean and massively masculine ridding a vespa around bossing people about , again is all very scary
Paul
DOCC#11
DOCC Web And Regalia Coordinator
Site Admin
Posts: 125
Joined: Wed Jan 12, 2005 11:19 am
Location: Woodstock
---
Return to general interest topics
Who is online
Users browsing this forum: No registered users and 1 guest