NICK WHO YOU SAY?
The Ducati Owners Club of Canada is pleased to announce that Nick Ienatsch will be at our Mosport Track Festival On May 24th and 25th.
---
THE WHAT AND THE WHERE
Nick will be doing a FREE presentation on Saturday Evening where he will be talking about better riding techniques for the road and track, followed by a question and answer session. He will also be out there riding with us on the track. Now for those of you who don't know who Nick Ienatsch is, or even how to pronounce his name (it's "eye-natch") you're forgiven – but keep on reading.
---
Nick has been a mainstay of the motorcycling press for almost 30 years writing for Motorcyclist, Sport Rider (where he was a founding editor) and for the past 12 years he has written for Cycle World. He is also the author of 'The Pace'; the seminal article on sensible but fast riding on the street.
Recently, Nick authored the bestselling book 'Sport Riding Techniques: How to Develop Real World Skills for Speed, Safety, and Confidence on the Street and Track'. New or experienced, if you ride on the track or the street you can learn from Nick's writings.
Still need convincing Nick knows his way around the business and is worth coming out to listen to? Well he was the lead instructor at the Freddie Spencer Riding School for 12 years and is now part owner in the Yamaha Champions Riding School which counts AMA and World Superbike Champions Scott Russell and Ben Spies among its guest instructors. His racing resume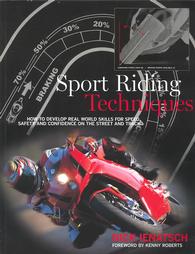 includes two AMA SuperTeams National Championships with Two-Brothers Racing and Erion Racing, four top-three annual finishes on Yamaha's TZ250 in AMA 250GP competition, two No. 1 plates from Willow Springs, three Grand National Championships with WERA and podiums in AMA 600 SuperSport.

Nick is absolutely committed to the fact that everyone can ride better with a little help. Nick believes this so much he views it as a Crusade…to save our sport. To help achieve this he started the website FasterSafer.com.
As his website states, "Single-bike accidents continue to injure and kill motorcycle riders, yet bikes and tires are better than they've ever been."

As Scott Russell puts it "FasterSafer.com is asking you to invest in your riding and I'm here to tell you that it would be the best money you can spend in motorcycling".
                                    Go Visit FASTERSAFER.COM and Decide For Yourself.
---
This is a very special opportunity for the DOCC, and remember, it's free to come out to Mosport and watch for the day. Even if you're not riding on the track you can join us for Nick's presentation in the evening. We have a catered dinner and tickets can be bought on site. And if by chance you want to join us on the track and if you've never been out there before, contact us and we will do our utmost to help make it happen for you, it is Mosport after all.
As Peter Egan said:
"Motorcycle racing makes heroin addiction look like a vague wish for something salty."  A track day certainly isn't racing but that same addiction grabs you!
So mark your calendars folks.
THIS IS GOING TO BE COOL!